The Hoagie Roll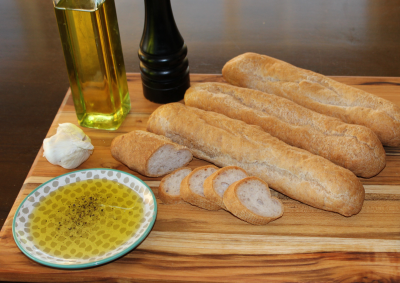 If you want the absolute freshest gluten-free bread on the market, look no further than our hoagie roll. You can purchase hoagie rolls within hours of being baked. One of our favorite things to do with the fresh roll is slice them up and dip them into extra-virgin olive oil with a touch of herbs and spices. For those who can do dairy, butter is also an excellent complement.
What else can you do with hoagie Rolls?
These rolls are versatile in every way hoagie rolls are, but given the nature of gluten-free breads and the lack of preservatives, we'd like to offer a suggested schedule for enjoying your hoagie rolls to their maximum potential.
Day 0 - Eat it. Don't leave it on the counter. Butter it, dip it in oil, or nothing at all. Enjoy the fresh bread. You deserve it.
Day 1 and 2 - Still great but a little drier. Time for a hoagie sandwiches with Italian meats or your favorite meatless combo of deliciousness. Or the granddaddy of all hoagie style sandwiches: philly cheesesteak.
Day 3 and later - store them in the refrigerator. They'll definitely be drier but here is where the hoagie rolls become so much more than just bread. May we suggest:

Garlic bread: Cut it lengthwise and spread butter or margarine on the cut side, sprinkle with garlic salt and onion powder, maybe some dried parsley, freshly ground pepper. Bake until your mouth is watering so badly you can't wait anymore. The rolls will actually soften a little on the inside as it's baked/broiled in the oven.
For those who can do dairy, take it up a notch (or two) with cheese bread! Start with the garlic bread above and top with slices of mozzarella cheese after you remove it from the oven. Return to the oven until the cheese has melted. Don't forget the side of marinara sauce. So delicious. Brace yourself.
Bruschetta: slice it, brush it with olive oil, bake it and then top with fresh tomato, fresh mozzarella, and fresh basil. Boom!
One last possibilty that requires some effort is breadcrumbs, which can then be used in many other recipes.

Slice the hoagie rolls into 1/2" slices and lay them out on a cookie sheet.
Place them in the oven at 350 for 15 - 18 min, then turn them over for another 20 min.
After removing from the oven, allow them to sit on counter for an hour to dry out even further.
Break or chop them into pieces, place the broken pieces into a food processor and run on high for several minutes until it doesn't look like it's going to grind the bread into smaller pieces.
Depending on how powerful your food processor is and how much moisture is still in the crumbs, you may need to use a sieve to filter out the larger breadcrumbs. The more open the webbing the better, shake the breadcrumbs out of pulverized pieces. There could be plenty that won't make it through the sieve. Those can be used for stuffing if you're feeling adventurous and it's close to the holidays.