Gluten Free Baking Tips
Did you enjoy baking before going gluten free and now find it discouraging? When I first started, I was so frustrated by the dry, gritty texture of many baked goods, but with experimentation I found that many items can be just as tasty or even better than their wheat-based counterpart. For real! Believe it or not gluten is not always a good thing. It can be overworked and result in a tough crumb.

There are many different strategies that can improve the taste and texture in GF baking. This is not an all-inclusive, one size fits all approach, but rather some strategies you can employ with practice: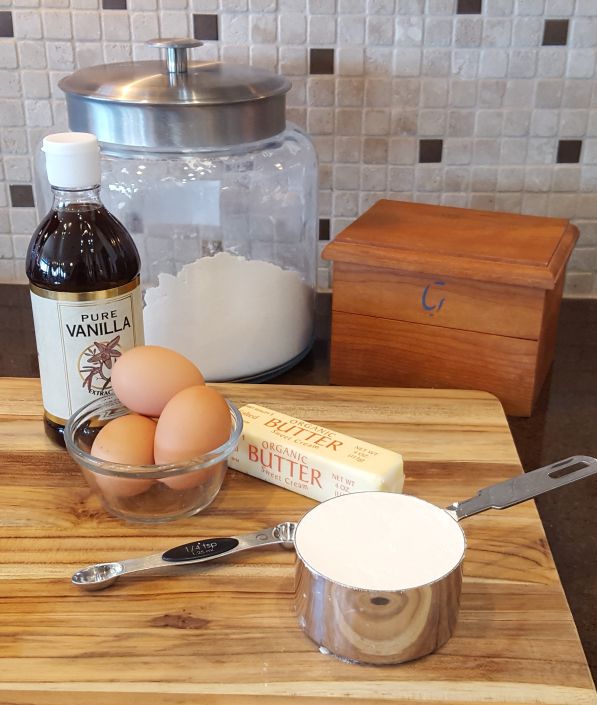 Start with a high-quality flour blend. I know, gluten free flours are expensive! But they are not all equal. We use different flours for different purposes. For example, higher protein/fiber content helps in yeast doughs, while a super fine ground flour is good in cakes where you want a delicate crumb.
Weigh ingredients like flour, cocoa, cornstarch, powdered sugar and brown sugar. Measuring by the cup can result in huge varition. Weighing greatly improves consistency and isn't any harder once you get the hang of it. You can find kitchen scales for as little as $10. For each cup of flour in a new recipe we start with 4.8 oz (136 g) of our all purpose flour, then adjust up or down if needed.
Gluten free flours absorb more moisture. You can compensate by removing some flour (~1-2 Tbsp/cup, or 8-16 g) or by adding moisture. Depending on the recipe, this could be more water, milk, or an extra egg. Start with small changes, the equivalent of a Tbsp or two at a time, and make notes on the outcome (i.e. "still too dry, try 3 Tbsp next time").
Add protein. Wheat flour has more than rice flour, which helps give structure and improve rise. Try subbing a portion of higher protein flour like sorghum, teff, or GF oat flour. Again, start small, like 1-2 Tbsp (8-16 g) per cup of flour.
Whisk dry ingredients. It only takes a few seconds and helps aerate the flour.
Mix longer, especially when creaming butter or whipping eggs. This incorporates air and helps with structure. Here is an awesome article showing how creaming butter and sugar for longer can change the end result.
Wheat flour has a flavor that is lacking in gluten free flours. Adding more vanilla and other extracts can add some depth of flavor to your baked goods. Sorghum flour is closer in taste to wheat. Try subbing in a small portion to a recipe.
Use a silicone baking mat or parchment paper for things like cookies. Lining pans with parchment for cakes and bars can make them easier to release and less likely to fall apart.
Let the batter or dough "rest" 30 minutes before baking. This gives the flours time to absorb moisture and soften, minimizing that gritty texture.
Baking time and temperature can vary. Start on the low end of baking time and add minutes as needed. You will also get different results baking on the middle rack vs closer/farther from the heating elements. Try moving up for more browning or down for less.
Approach new recipes as an experiment, starting with a small batch, and making notes each time about what worked or didn't work and what to try differently next time.
Most of all, have a sense of humor and give yourself grace! Like any new skill, it requires patience and practice to master. We are here for you if you have questions. Feel free to email us at
info@crestonebakery.com
!